19:30 – JFMK Main Hall
Balázs Ács movingly recited the poem by Petőfi.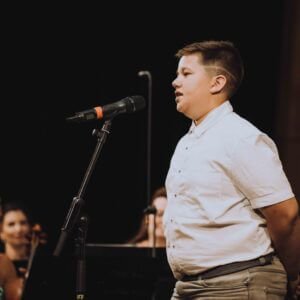 ______________________________
Was performed in the concert program:
András Bolyki: Why June Specifically? Op.26
Bolyki András is a musician residing in Biatorbágy. He is the vocalist of the Bolyki Brothers and plays viola and violin for the EFKZ, Savaria Baroque Orchestra, Wiener Esterházy Ensemble, and Banduk Quartet. He is also a violin instructor at PMAMI and a composer.
The audience will have the opportunity to hear his composition titled "Why June Specifically?" Op.26, with biblical inspiration, written for the string chamber orchestra, not for the first time.
It can be listened to here.
Richard Strauss – Péter Kostyál: Suite from "Knight of the Rose"
Péter Kostyál is a violinist for the Budapest Festival Orchestra, EFKZ, and the Barcarola Quartet. With the rearrangement of the "Knight of the Rose" suite, Kostyál Péter set a high standard for his own orchestration, as well as for the performing musicians.
Adapting Richard Strauss's work originally intended for a large symphonic orchestra to a string ensemble presents a noble challenge, one that both the arranger and EFKZ willingly undertake with joy.
Frigyes Hidas: Bassoon Concerto feat. György Lakatos, bassoon artist awarded with Liszt, Bartók-Pásztor, and Artisjus prizes.
György Lakatos is a prominent bassoon player of our time and a professor at the Liszt Academy. His virtuosity, captivating slow movements, and cadenzas enriched with improvisational elements provide an unforgettable experience for every listener. A friendship spanning several decades ties him to the EFKZ.
The performance of Frigyes Hidas's beautiful bassoon concerto enchanted both the soloist and the accompanying orchestra, as well as the audience.
As an encore, György Lakatos performed Peter Wolf's exquisite piece accompanied by the EFKZ.