18:30 – JFMK
The EFKZ Sphere
Paulay Katalin, the violinist of our orchestra, delighted the sweet-toothed audience of Biatorbágy with another fantastic dessert recipe. Our collaborative partners also prepared this delicacy in a special version based on the recipe. Here is the Andrész-style EFKZ Sphere, which guests had the chance to taste at the pastry shop during the festival week.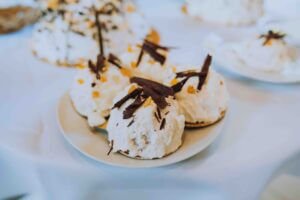 And this is the family version of the EFKZ Sphere from Caffe Trevi.
According to our invitation, anyone who prepares and brings the EFKZ Sphere to the "Sütimustra" event will be rewarded with a very valuable and exclusive CD.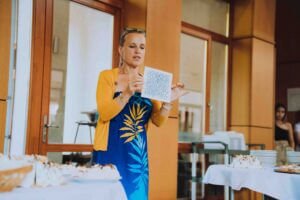 Here is the winning entry.

And the winning kitchen magician! Congratulations with love and thank you for your enthusiasm.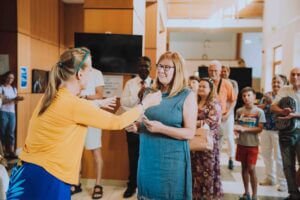 Afterwards, we invited everyone to a tasting as well, so that we wouldn't just talk about the EFKZ ball. Paulay Katalin's daughter, Sára Lakatos, a cellist, also helped with distributing the pastry, which, of course, disappeared in no time.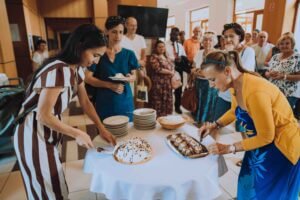 Finally, here is the recipe so that anyone can make the official pastry of the 2023 II. EFKZ Art Festival, the EFKZ ball, at home.
———————————–
A 2022-es EFKZ szelet:

20 dkg darált mandula
 8 dkg cukor
Töltelék:
1,5 kg magozott (mirelit) meggy
15 dkg kukoricakeményítő
54 dkg cukor
 6 csomag vaníliáscukor
Máz:
20 dkg Ráma margarin
22 dkg porcukor
5 dkg holland kakaópor
2 evőkanál rózsavíz
Elkészítés:

A tojásfehérjét habbá verjük, majd óvatosan beleforgatjuk a többi hozzávalót és 4 lapot sütünk belőle.
A keményítőhöz hozzákeverünk annyi meggylét, hogy sűrű pép legyen.
A töltelékhez a meggyet felfőzzük a cukorral, majd a keményítővel besűrítjük, majd hűlni hagyjuk.
A mázhoz a rámát felolvasztjuk (nem forraljuk!), majd beletesszük a többi hozzávalót.
Tűzről lehúzva homogén fényesre keverjük.
Sok sikert kívánunk a konyhában!