17:00 – JFMK Main Hall
From Afar – About Petőfi's Songs
Dr. János Reisinger, literary historian and author of numerous books and publications, an esteemed researcher of Petőfi's work, brought a unique musical approach to this event, presenting the well-known verses of the great poet's life's work to Biatorbágy.

The audience was amazed to realize that Petőfi's more than eight hundred verses reflect deep philosophical thoughts, unique worldviews, and a distinct philosophy. Our great poet was not just the author of revolutionary or love poems! Despite his young age, he saw the intricately complex forces that move the world with sensitivity and clarity, expressing them in simple and comprehensible language through his art. Even though Petőfi passed away at the age of twenty-six, he still remains, for us, a "poet unknown," with much to discover.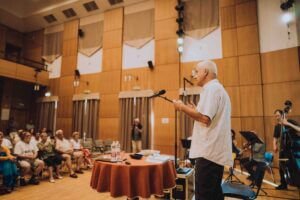 Dr. János Reisinger's presentation was enriched by the musical performance of the Barcarola Quartet. In their performance, they transformed the poem "Távolból" into a folk song, and the audience even had the chance to sing along with them!

After this presentation, the volume of Petőfi's works will likely resurface in many homes, allowing us to rediscover his poetry once again.